A Life Remembered: Johnson a compassionate mentor for a legion of attorneys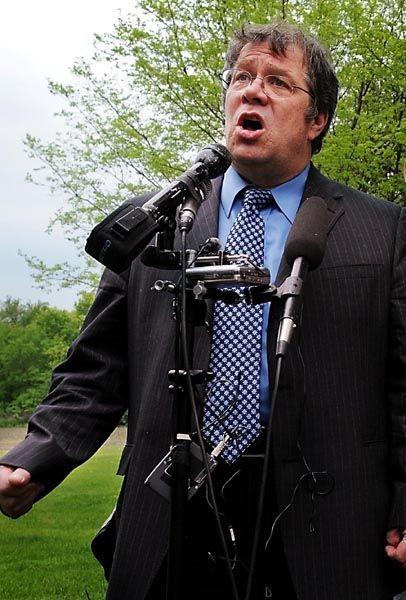 MANKATO — To a legion of attorneys in the region, Calvin Johnson was a mentor whose passion for his clients and his pleasant nature endeared him to a large swath of the legal community.
"He always put his heart and soul into cases. He didn't look at being an attorney as a job or vocation. It really was his passion," said Allen Eskens, a retired attorney and author who met Johnson 30 years ago when Eskens came to Mankato.
Johnson died Jan. 20 at age 65 after an extended battle with cancer.
Johnson's passion for his clients, especially those with long-shot cases, brought him into the national and international media spotlight on at least two occasions.
He represented area farmer Herb Saunders, who in the early 1990s was tried on a gross misdemeanor charge of practicing medicine without a license. Saunders used colostrum — or first milk from a cow — to treat disease in humans.
In 2009, Johnson was again gaining international attention when he represented the parents of Daniel Hauser, 13, of Sleepy Eye.
Diagnosed with childhood Hodgkin's lymphoma, Hauser stopped chemotherapy after one round and his parents opted for alternative treatments. The issue ended up in court because doctors said his type of cancer was highly curable with treatment.
"He was always willing to tilt at windmills," said public defender Brad Peyton, who knew Johnson for 25 years. "If someone came to him with a heartfelt story, he always took their case. That's just the way he always was."
Peyton said he learned a lot about the law from Johnson, particularly watching him when one of Johnson's clients was being sentenced.
"He could bring a tear to your eye. He always made sure he understood his clients and made sure the judge understood them and made people understand the person next to him was a person, not just a client," Peyton said.
Cora Haman, who Johnson hired as a legal assistant in 2008, said he was both a mentor and one of her best friends.
"He told me we were kindred spirits. But I think he had many kindred spirits. He could connect on a personal level with almost anyone he encountered. I saw him do this with clients, attorneys, jurors," she said.
Johnson was the first formal chief public defender in the district and hired current chief public defender Scott Kutcher in 1990. Kutcher said Johnson always found the endearing quality in anyone.
"We work with people who are dealing with the worst time in their lives. Calvin could always find a silver lining in folks that most people couldn't find. He was a sweet, very caring guy."
Jim Kuettner, who knew Johnson in recent years and bought Johnson's practice in 2017 when Johnson semi-retired, said his kind nature was always on display.
"He was the nicest guy you'd ever meet. He'd pick up bugs in his hand and toss them outside instead of killing them. That was just his philosophy in life," Kuettner said.
Brown County District Judge Robert Docherty met Johnson more than 20 years ago when Docherty was a young criminal defense attorney.
"He was always very helpful. He was really helpful in client relationships — it's not enough to do the work for your client, your client has to know you're doing the work and someone is in their corner fighting for them. He was always careful that they knew someone was going to bat for them."
After Docherty became a judge in 2012, Johnson had a few cases in front of him.
"He won some and lost some, as is usual. When you see an old friend coming before you and you have to say, 'You're wrong,' it's tough. But he never took anything personally, he was never upset about it," Docherty said.
Beyond his legal mentorship, a group of friends and attorneys unwound with annual trips to Johnson's family cabin on Lake Ada, near Pine River, fishing, playing poker and unwinding from job stresses.
"It's where we went to be detached from the real world, a hidden universe," Peyton said.
"Cal and I would often go up a day early and just sit by the lake and watch the waves and play cribbage. It would just be quiet, and we'd sit there not really talking about anything."
The group, Peyton said, watched their children and then grandchildren grow up. "No matter what legal accolades he had, he never viewed anything as being close to the pride and joy he got from having grandchildren."
The Ada Lake cabin will also be the final resting place for Johnson. This summer his ashes will be buried there alongside his first wife, Jane Marie Brennan, who died 30 years ago.